Welcome to
White Horse Sanctuary
Guidance · Wisdom · Healing · Love
.
---
Cortes Island, BC Canada
What is Horse Time
Slowing down, into horse time, is a meditation in nature. In the presence of horses, the electromagnetic energy fields of your human heart and brain come into a state of coherence - that's why being around them feels so good. Our human nervous system regulates, as well.

Learn how body language and energy, the horses' and your own, are the keys to meaningful interactions with our wise equine friends.

Experience true leadership, too, of yourself and of others, by building trust with a horse.

Horses are a natural portal to the wisdom and healing found in the spirit world. Come as you are, whether for life guidance and insight, confidence, healing, plain old love––or just for the fun of it. If you're afraid of horses, we can help with that, too. And for experienced horse-lovers, a deeper communion.

All our work is held within the guidelines of Pro-EFW-Canada, the Professional Association for Equine Facilitated Wellness.
About co-founders Omar, Raven & Oriane Lee
Omar and Raven are Belgian-Haflinger-cross horses; full brothers, age 14 and 15, who've lived together their whole lives. Before they came to Cortes Island in 2017, as work horses they pulled wagons and sleighs for their cowboy owner. Each has their own distinct character as a medicine horse in this new phase of life, bringing their wisdom to us humans. Omar and Raven have now moved to the mainland and our work on Cortes continues with the herd of Devotion in Motion Equestrian.
Oriane Lee Johnston combines natural horsemanship, Equine Guided Learning, somatic meditation, and the Art of Spiritual Guidance in her work with individuals and groups. She has co-led equine guided learning programs for Hollyhock Leadership Centre, Royal Roads University, Chiron's Way, Camosun College, Mary's Farm & Sanctuary, Spirit Gate Farms, Healing Heart Sanctuary, and in Africa.

Horses have taken her riding in the sacred mountains of Ecuador, swimming in the Indian Ocean, on safari into the Okavango Delta of Botswana and the wilderness of Zimbabwe, to the legendary wild herds of the Nemiah Valley in B.C.'s Chilcotin, and by donkey cart to meditate in a monastery in the Sagaing Hills of Burma. Home is Cortes Island, in the Salish Sea, on the west coast of BC, Canada.

White Horse Sanctuary lies within the traditional and ancestral unceded territories of the toq qaymɩxʷ (Klahoose), ɬəʔamɛn qaymɩxʷ (Tla'amin), ʔop qaymɩxʷ (Homalco) Nations.

Our work is grounded in the horse savvy of Frances Guthrie, Jonathan Field and Barbara Rector; the books Tao of Equus and Riding Between the Worlds by Linda Kohanov; Horse Wisdom for Humans professional training at Generation Farms; the Spiritual Guidance Wisdom School; Buddhist Somatic Meditation Practice; and Healing-with-Horses-Zimbabwe.

Oriane Lee is a member of Pro-EFW Canada and Horse Council BC
White Horse Sanctuary is insured through CapriCMW

On a different note, Oriane Lee offers Tarot Maps of Guidance for individuals, relationships, projects and organizations.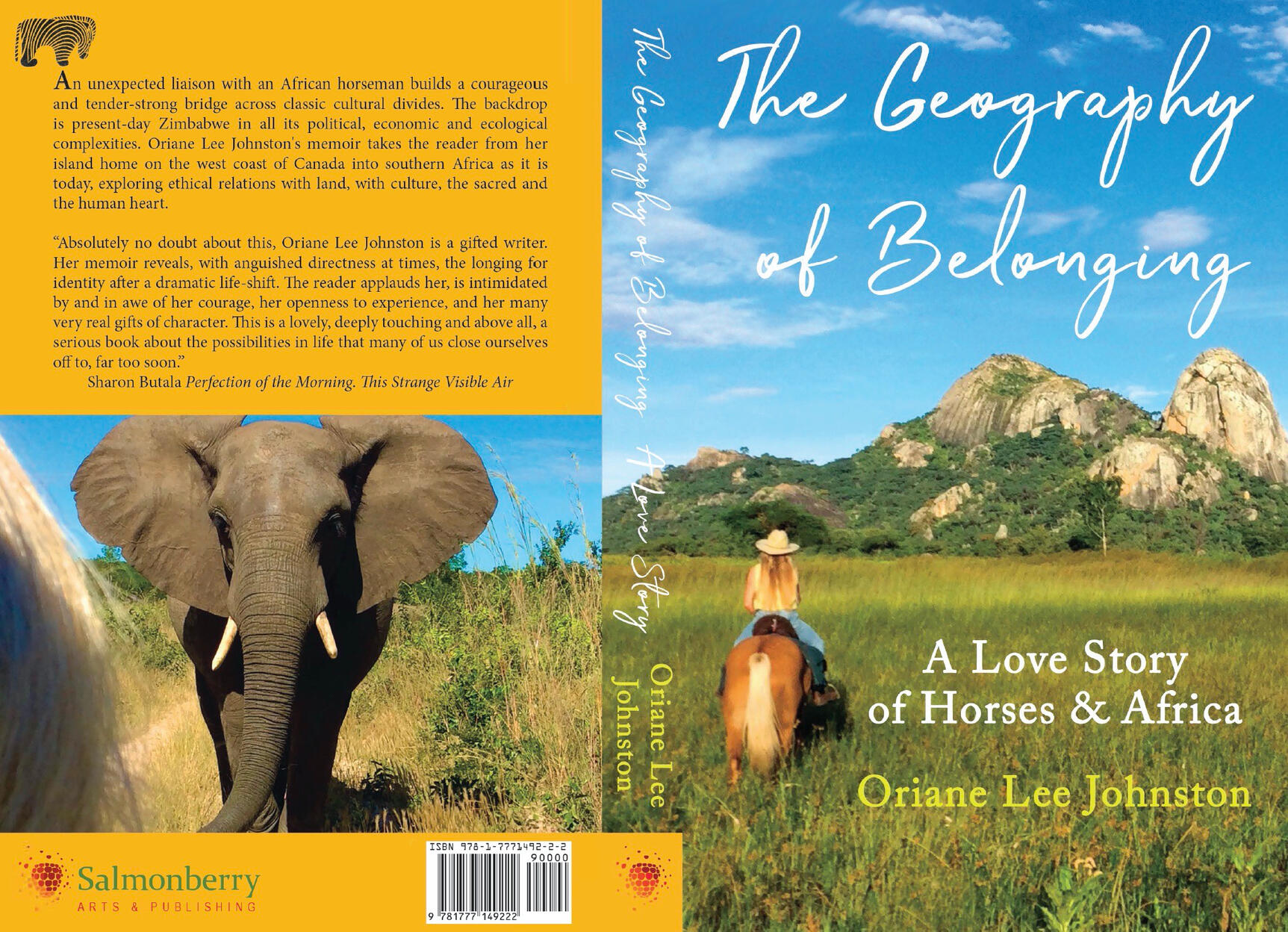 Horse Wisdom for Dr. Charles
Two friends and I stand in a big grassy paddock on Cortes Island. Six horses are grazing with their heads down in the summer warmth. Hollyhock co-founders Charles Steinberg and Torkin Wakefield are here with a question: Charles asks for a reflection about the HIV treatment project he has been working with in Kampala, Uganda... Continue reading
The Way of the Horse: Spiritual Awakening
Oriane Lee Johnston leads a group of 16-year-old high school students into a field of horses. She asks them to notice how they are feeling, how their body is reacting. Then she asks them to notice the horses. What are they doing? If a horse is walking toward you, how does that approaching energy affect you? Oriane is an equine guide, helping people practice mindfulness in Canada and Africa... Continue reading
Wildly Familiar: Nature's Sixth Sense
In Zimbabwe, Oriane Lee talks with two safari guides after their Equine Guided Learning session. More at home with elephants and lions, than with horses, the guides compare her approach with horses with their own experience of tracking wild animals in the African bush.
Healing with Horses in Africa
I hadn't noticed the girl lying on her back on a blanket below the bleachers where I sit observing the other youngsters circling the round corral on their horses. Three children at a time, each held in the saddle by an enthusiastic groom on either side. A third groom, or volunteer from the community, carries the lead rope in front... Continue reading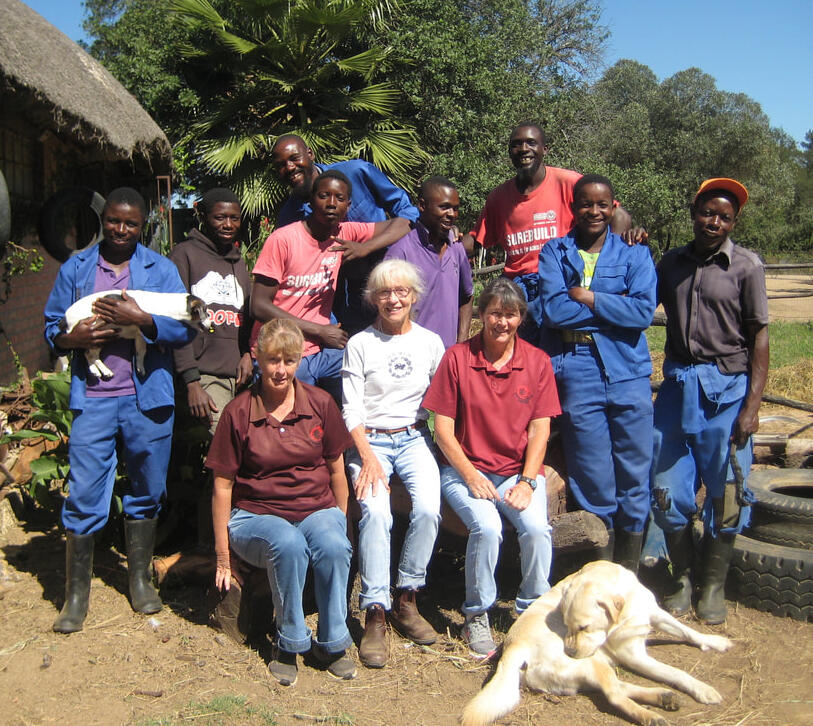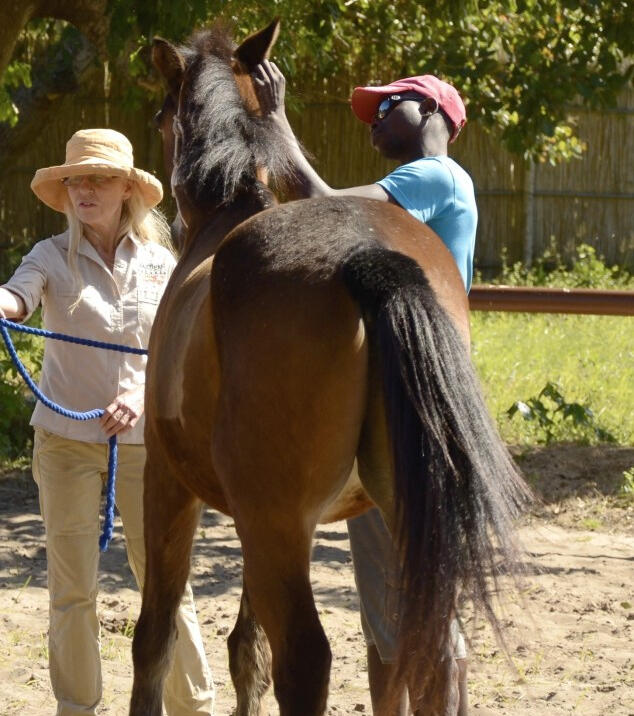 Horses & Leadership in Africa
"Here come the horses!"

Although there are just two of them, it might as well be a thundering herd for the amount of excitement in the air. Six Mozambican students at the residential teachers' college near Vilanculos have met me on the grassy grounds for an afternoon of Horses & Leadership, learning body language communication skills by interacting with horses, in addition to practicing their English conversation... Continue reading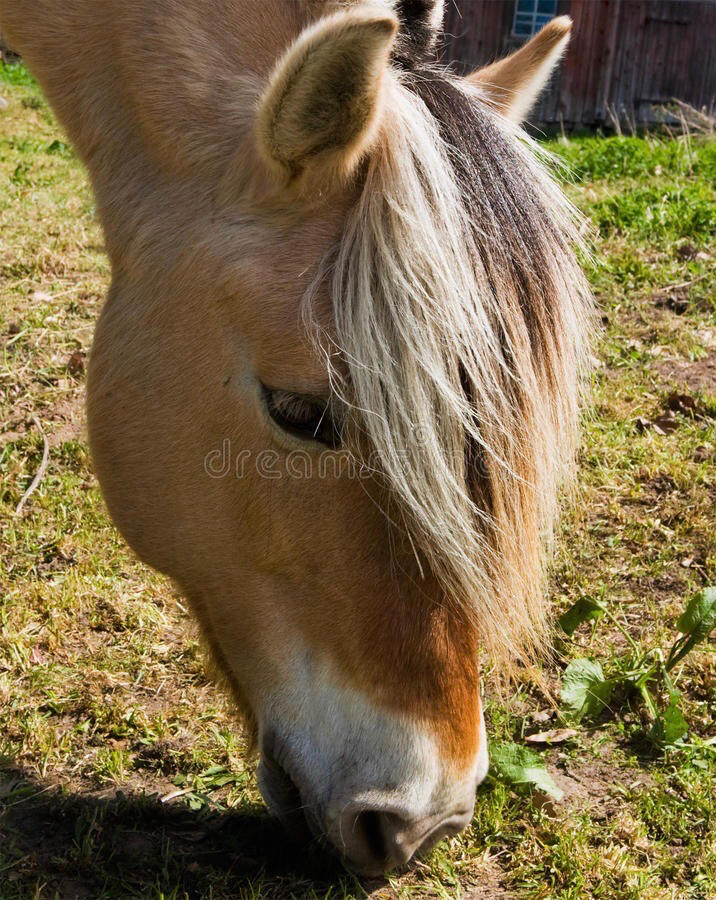 Horse Wisdom for Dr. Charles
Two friends and I stand in a big grassy paddock on Cortes Island. Six horses are grazing with their heads down in the summer warmth. Hollyhock co-founders Charles Steinberg and Torkin Wakefield are here with a question: Charles asks for a reflection about the HIV treatment project he has been working with in Kampala, Uganda.

"What now?" he wonders, "How can we continue to best serve what is needed, in that community and beyond?"

Sid, the mature Norwegian fjord gelding, has been moving imperceptibly as he grazes, circling in a spiral toward us. When the horse is about five feet away, Charles notices Sid, falls silent, and turns to face the horse broadside.

Fjord horses, though relatively short in stature, are sturdy, muscular, very strong and agile, equally well-suited for heavy work like plowing fields or pulling timber as they are under saddle and in therapeutic settings for disabled riders. Sid may have some information for Dr. Charles.

I ask Charles to notice every nuance of Sid's movement, the slight flick of an ear, a seemingly casual swish of his tail, quivering reflex of a muscle when a fly lands on his wither. After awhile Charles steps close enough to rest his palm on Sid's back and the two of them meander together in a leisurely one-step-at-a-time curve. Then Charles looks at me, and shrugs, as if to say, "I dunno."

"How about get down to ground level?" I suggest, and Charles squats beside Sid and intently watches him nibble the grass. He notices the inward curling of Sid's lips and how delicately he bites the blades of grass with his front teeth. All is quiet in the paddock, and I can hear the bees in the blooming apple tree outside the fence. Then slowly Charles stands up and exhales a long breath.

"It's got to go grassroots. The project, the treatment center, can be run by the community itself. We'll teach the nurses and clinical assistants to be primary caregivers."
He takes a step backward from Sid, "Then, I'll look at where else I can be useful."

Charles will go on to Barefoot Doctors, in Thailand, training Burmese Christians to do AIDS medical work in the remote border villages of Myanmar (Burma). In November 2014, Dr. Charles volunteered for six weeks as Emergency Medical Director for an Ebola Treatment Unit in Sierra Leone. The new year of 2020, finds Charles and Torkin beyond the southern border of the U.S.A., tending to migrants in Tijuana, Mexico, who are hoping for asylum in America.

"Why not me?" he had asked himself before going to Sierra Leone, and I remembered his silent conversation with Sid.

Contact
Fall 2021

Omar and Raven have moved to Singing Horse Ranch in the Northern Okanagan wine country. Equuarius: Güliz Unlü

Now, on Cortes Island, our Horse-Spirit private sessions and groups are hosted by Devotion in Motion Equestrian and their herd of six horses. Come join us here!
.
Sessions:

Individual encounters:
• One person /one generous hour. $100
• Two - three - four people. $150 - $200 - $250
• Horse Play for kids. 13 & under. $40

Ask us about a series of sessions custom-designed for you. We also welcome small-group retreats.

We follow covid19 guidelines, set out by our professional equine association and liability insurance.
CHECK OUR CALENDAR FOR 2022 HAPPENINGS, AS THEY'RE SCHEDULED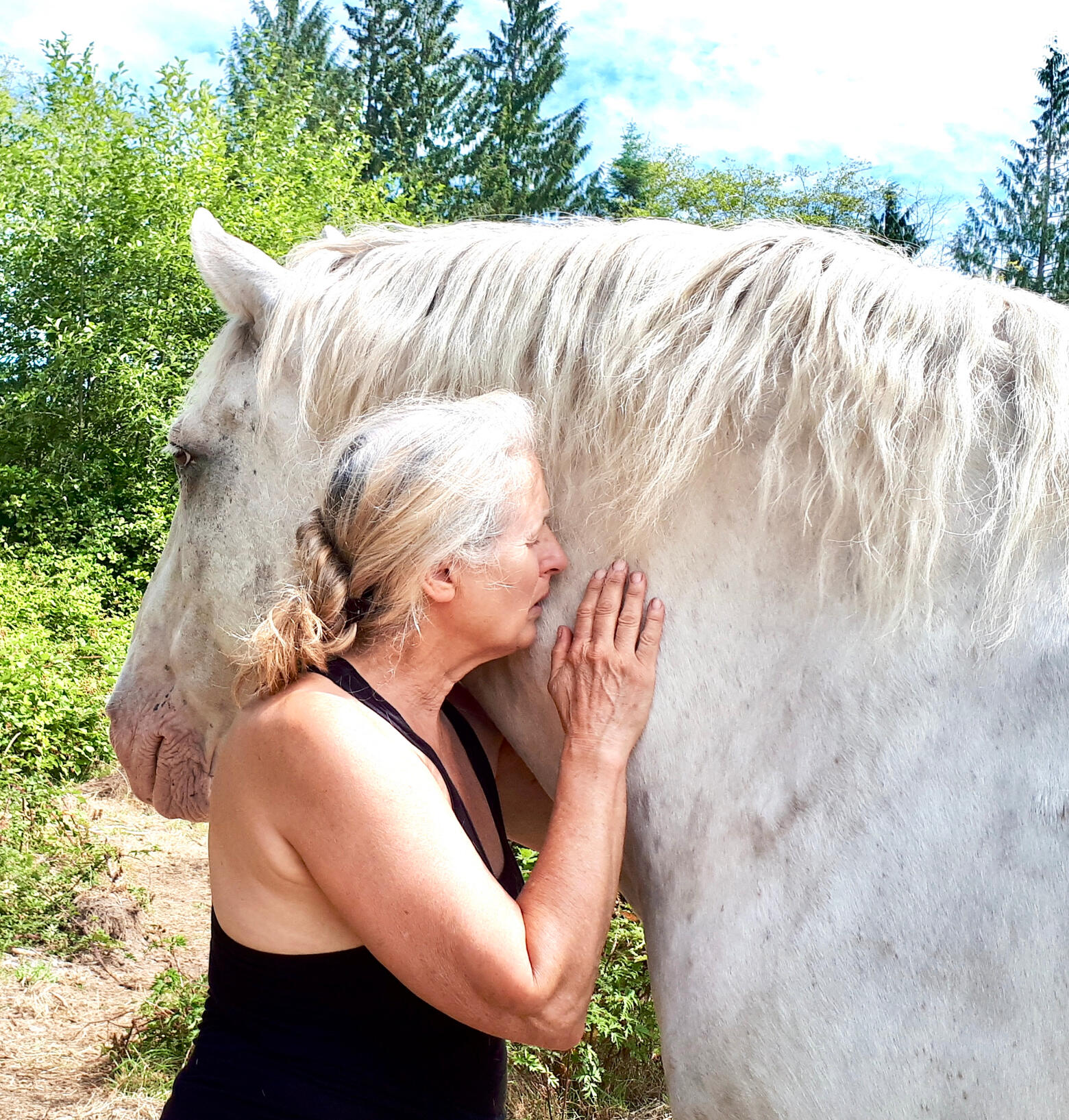 ---
From Margie:
My intimidating training, as a child, about 'mastery' of the horse, never made sense to me. With Omar & Raven, I felt them 'assessing' me and choosing safe loving behaviour to share with my spirit. Even beyond that, sitting bareback on Omar, in stillness, he understood and cared for my physical limitations, from an injury, as if he were reading my thoughts. An astonishing level of intimacy and trust. Thank you, Omar. Thank you, Raven. Thank you, Oriane Lee.

Margie Gillis
Artistic director, choreographer, dancer
La Foundation de Danse Margie Gillis
---
From Chloe:
When we set out across the field to meet Omar and Raven, who were quietly grazing fifty yards away, I had no idea an extraordinary encounter awaited. My childhood passion for horse riding ended abruptly, after a dramatic fall with one foot caught in the stirrup, whilst my horse galloped on. As we walked slowly closer to Omar and Raven, a primal apprehension arose. However, Oriane Lee's way of being with them––and they with her––dissolved my fears in seconds. This, in itself, was profoundly healing. Then, she suggested I sing to them. I will never forget Omar's warm response to me, the resonance and sensuality of our meeting as he came over and stood with his head beside mine, ears turned toward my voice. I am beyond words with the wonder of his deep listening; I felt a profound 'knowing' of me. The healing presence of these two beautiful white horses continues to live on within me.

Chloe Goodchild, The Naked Voice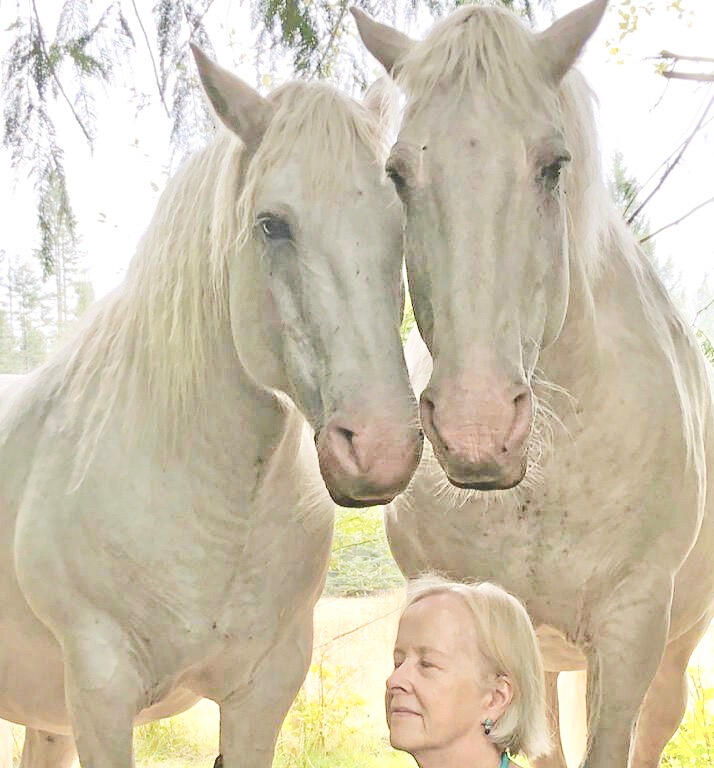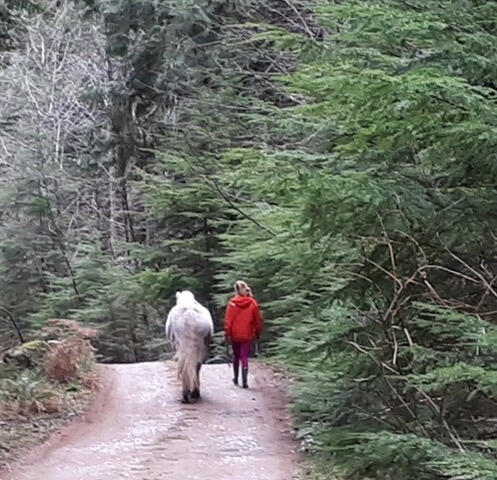 ---
From Kendall:
After I made friends with the two horses over a few visits, and helped Oriane Lee with the "manure meditation" (picking up horse poop in the paddock), Omar entrusted his lead rope to me and we could go for a walk in the forest. It is powerful to be in synch with his beautiful being as he walks alongside me, in step. Omar shows me when I am going too fast and when I am not paying attention. I feel like a kid again, learning a new heart-centred relationship skill. Confidence-building, and helpful in my human relationships, for sure.

Kendall Kuropatwa
Author, BC Canada
---
From Gus:
I've never have been a 'horse person', but my time with Raven and Omar was humbling, transformative and, really, rather mystical––all while remaining grounded in the earthy reality of standing with two horses in a green meadow on a sunny day. In that normal, yet magical, space, I felt a never-before, deep, heart-to-heart connection with an animal, that remains vivid to this day. Oriane Lee offers guidance quietly, yet assuredly, allowing and supporting whatever is unfolding in human encounters with these two great horse-hearts.

Gus McLeod
Edinburgh, Scotland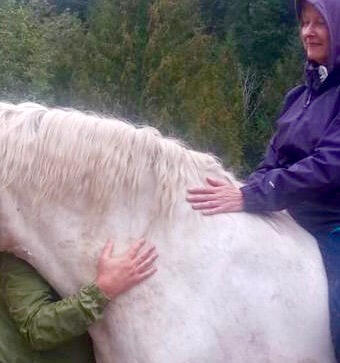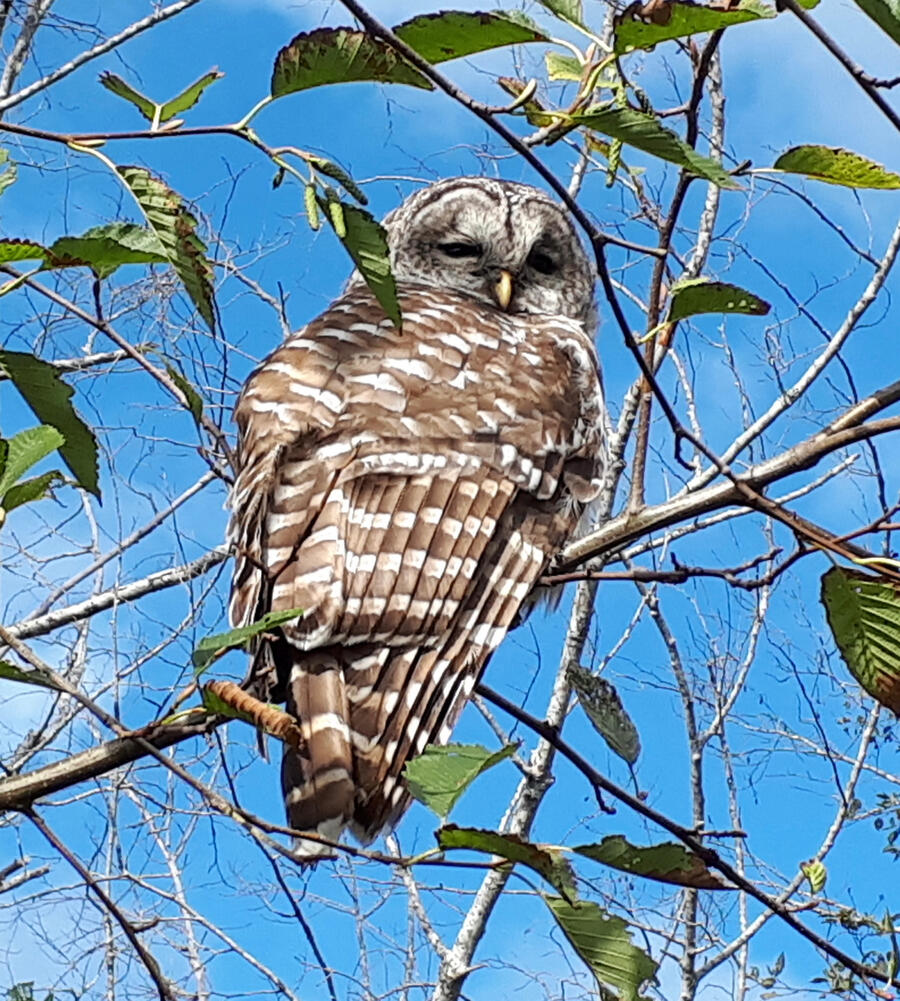 ---
From James:
I've been terrified of horses since a camp counselor warned me as a kid to NEVER walk behind a horse or I'd be kicked. And now I'm 65. All that fear bubbled up and, then, dissolved in an exquisite and beautiful experience with Raven. In the end, I was standing directly behind him with my body fully touching, arms stretched out, head resting on his haunches… at peace, at ease and open…a moment of sheer tranquility and trust, and one I'll always remember.

James Weinberg
Musician, Songwriter
---
From Mary Beth:
Knowing horses are highly intuitive, I'd wanted to be with them in a therapeutic way, for quite a while. At first, seeing Omar and Raven, I was truly afraid of their size and power but was guided at my own pace. It was astounding how respectful and accurate their movements toward or away from me were, in response to my changing levels of fear. Oriane Lee helped me navigate my feelings, thoughts and beliefs and, then, to see the horses' behavior as a mirror of my emotional journey. It was a gentle yet deep-healing experience.

Mary Beth Cysewski
Musician, Songwriter